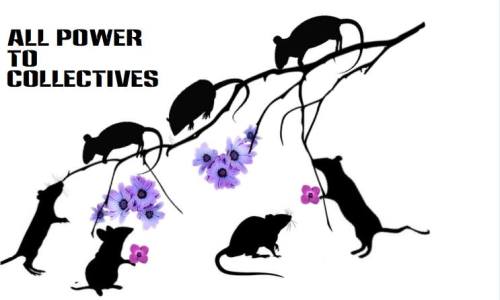 During 2017, Punch Up Collective spent several months developing curriculum for a four-hour workshop we call "Getting It Together: Organizing Collectives for the Real World." In early 2018, we facilitated this workshop for the first time and also wrote "Getting It Together: Ideas for Organizing Collectives," a companion article which Briarpatch Magazine published.
We were primarily motivated by what we see as the demands of this political moment. As Toronto-based organizer Syed Hussan writes, "If there is a hope in hell of us transforming our society, and building the kinds of worlds we want to live in, we need masses of people organized, disciplined and militant. It may seem that media moments are where change happens, but that is fleeting. Large scale movements rise up and dissipate. Organizations, collectives, affinity groups are needed to build up to them and beyond them." We wholeheartedly agree.
Our hope, in developing these materials, was to create easily-shareable resources to support and encourage the development of collectives. We crafted the workshop curriculum to be clear and accessible, we included detailed notes and options for facilitators, and we designed a helpful handout and sample planning timeline as well. We revised all of these further after our experience of facilitating the workshop. We encourage you to take these materials, modify them, and run collective-building workshops where you live.
Again, find our curriculum here, our handout here, our planning timeline here, and our article here. We've also listed some further readings below. These may be texts you want to incorporate into the workshop (for example, as preparatory reading for participants) or use as stand alone resources.
We sincerely hope that what we've put together is useful to you! If you have any thoughts on these resources, or the workshop itself, we'd love to hear it – drop us a line at punchup@riseup.net.
Further Reading
Cold B and T Barnacle, Building a Solidarity Network Guide
Virginia Coover, Ellen Deacon, Charles Esser, and Christopher Moore, Resource Manual for a Living Revolution: A Handbook of Skills & Tools for Social Change Activists, 4th ed. (Philadelphia: New Society Publishers, 1985)
Chris Crass, "Strategic Opportunities: White Anti-Racist Organizing and Building Left Organization and Movement: An Interview with the Heads Up Collective," in Towards Collective Liberation: Anti-Racist Organizing, Feminist Praxis, and Movement Building Strategy (Oakland: PM Press, 2013), 179-196
Chris Dixon, "'Vehicles for movement-building': Creating Organizations," in Another Politics: Talking Across Today's Transformative Movements (Oakland: University of California Press, 2014), 199-219
S.K. Hussan, "You can't change the world alone, but all of us can together"
Bruce Kokopeli and George Lakey, Leadership for Change: Toward a Feminist Model (Philadelphia: New Society Publishers, 1984)
Jeremy Louzao, Someday We'll Be Ready, and We'll Be Enough: Building Anti-Authoritarian Movements With the Size and Resilience to Win
Starhawk, The Empowerment Manual (Gabriola Island, BC: New Society Publishers, 2011)
Sylvia Rivera Law Project, SRLP Collective Member Handbook
Harsha Walia, "Overgrowing Hegemony: Grassroots Theory," in Undoing Border Imperialism (Oakland: AK Press, 2013), 173-202