Welcome to Radical Events Ottawa! Learn more about the list here. See the full calendar here.
Please Note: Events listed on this calendar are not organized by the Punch Up Collective unless otherwise noted in the event details.


Solidarity Dance Party Fundraiser for OCTEVAW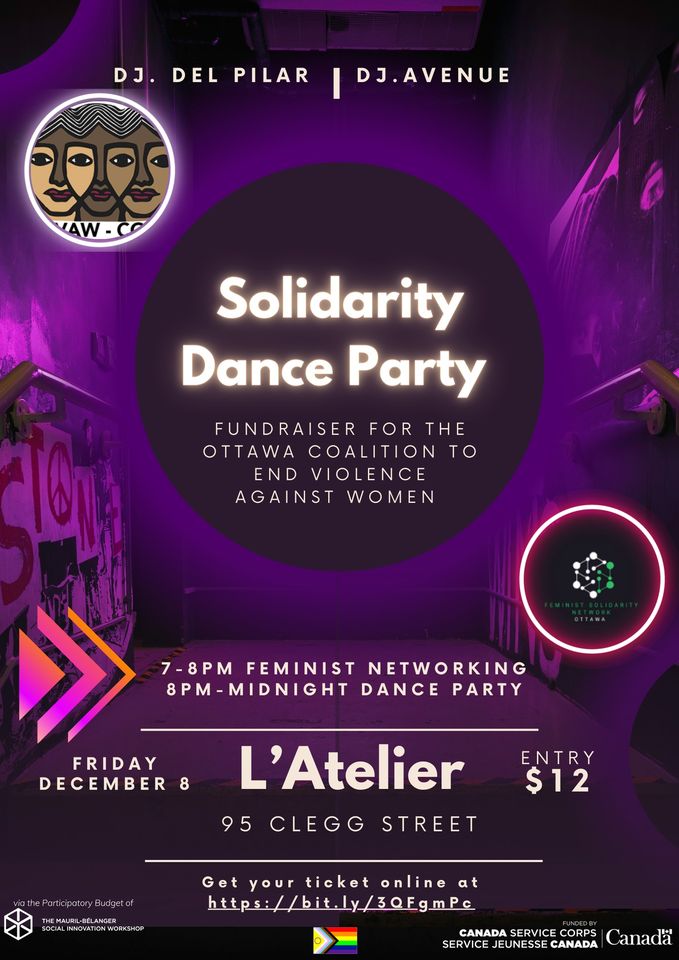 "If I can't dance, I don't want to be part of your revolution."
Join us for a feminist dance party Friday, December 8th during the 16 days of activism against gender-based violence! While this is a time to mobilize and take action, it is also a time to connect with our feminist comrades and celebrate our collective efforts. Burn up the dancefloor with DJ Avenue and DJ del Pilar as we celebrate and honour the often unacknowledged and unpaid work of the activists who keep our movements thriving!
All ticket sales will support the Ottawa Coalition to End Violence Against Women (OCTEVAW)!
​
7:00 pm-8:00 pm – Come mingle and meet other feminist organizers, workers, advocates, and rabble-rousers. Bring some swag or materials from your organization to share.
8:00 pm-12:00 am – Dance party!
Tickets are $12.00 per person https://bit.ly/3QFgmPc
If ticket prices are a barrier, please email us at feministsolidaritynetwork@gmail.com and we will put a ticket aside for you at the door.
About the DJs
DJ Avenue loves making waves with her eclectic mix of 90s and 00s throwbacks, soca, afrobeats, reggaeton, and the hottest top 40 tracks. With her infectious energy, DJ Avenue captivates audiences, creating an inclusive and vibrant atmosphere where everyone can come together and express themselves. She fearlessly breaks boundaries, champions diversity, and uses her platform to advocate for justice. Prepare for an unforgettable journey as DJ Avenue takes you on a transcendent, sonic adventure through genres.
DJ del Pilar is a Queer Afro-Latine DJ and vocalist. A longtime performer and event producer, DJ del Pilar brings the beats to stages big and small, and in the past few years has graced the decks at the NAC, House of Paint, Bluesfest, and opening for Mixmaster Mike. DJ del Pilar is also the co-founder of Ottawa's longest-running and coziest queer dance party, Homo Phono! Growing up in the 80's and 90's, she has been heavily influenced by old-school hip hop, funk, disco, and house music, putting a fresh spin on dance floor classics.
About the Venue
L'Atelier is an accessible community social justice hub space located at 95 Clegg Street. It is an inclusive safe space. Our work takes place on the traditional, unceded, and unsurrendered territories of the Algonquin Anishnaabeg people.
_________________________________________________________
"Si je ne peux pas danser, je ne veux pas faire partie de votre révolution."
Rejoignez-nous pour une soirée dansante féministe le vendredi 8 décembre pendant les 16 jours d'activisme contre la violence basée sur le genre. Il s'agit d'une période de mobilisation et d'action, mais également d'un moment de connexion avec nos camarades féministes et une occasion de célébrer nos efforts collectifs. Enflammez la piste de danse avec DJ Avenue et DJ del Pilar pour célébrer et honorer le travail souvent non reconnu et non rémunéré des activistes qui assurent l'épanouissement de nos mouvements!
Toutes les ventes de billets appuieront la Coalition d'Ottawa pour l'élimination de la violence faite aux femmes (COCVFF)!
19 h – 20 h – Venez rencontrer d'autres organisatrices, travailleuses, militantes et militantes féministes. Apportez du matériel de votre organisme à partager.
20 h 00-12 h 00 – Soirée dansante!
Le prix des billets est de 12$ par personne https://bit.ly/3QFgmPc Si le prix des billets est un obstacle, envoyez-nous un courriel à feministsolidaritynetwork@gmail.com et nous mettrons un billet de côté pour vous à la porte.
À propos des DJ
DJ Avenue adore faire des vagues avec son mélange éclectique des années 90 et 00, de soca, d'afrobeats, de reggaeton et des meilleurs titres du top 40. Avec son énergie contagieuse, DJ Avenue captive le public en créant une atmosphère inclusive et vibrante où tout le monde peut se rassembler et s'exprimer. Avec son assurance assumée, elle brise les frontières, défend la diversité et utilise sa plateforme pour militer en faveur de la justice. Préparez-vous à un voyage inoubliable: DJ Avenue vous emmène dans une aventure sonore transcendante à travers les genres.
DJ del Pilar est une DJ et chanteuse afro-latine queer. Interprète de longue date et productrice d'événements, DJ del Pilar fait vibrer autant les espaces intimistes, que les grandes scènes. Au cours des dernières années, iel s'est produite au CNA, au House of Paint, au Bluesfest, et a fait la première partie de Mixmaster Mike. DJ del Pilar est également le cofondateur de la soirée de danse queer d'Ottawa la plus chaleureuse et la plus ancienne, Homo Phono! Ayant grandi dans les années 80 et 90, elle a été fortement influencée par le hip-hop, le funk, le disco et la musique house de la vieille école, ce qui elle permet de donner une nouvelle twist aux classiques des dance floor.
À propos du lieu
L'Atelier est un espace communautaire de justice sociale accessible situé au 95 Clegg Street. C'est un espace sûr et inclusif. Notre travail se fait sur les territoires traditionnels, non-cédés et non-abandonnés du peuple Algonquin Anishnaabeg.