Welcome to Radical Events Ottawa! Learn more about the list here. See the full calendar here.
Please Note: Events listed on this calendar are not organized by the Punch Up Collective unless otherwise noted in the event details.


Caroline Shenaz Hossein: Voices from the Black Social Economy
November 16 @ 1:00 pm

-

3:30 pm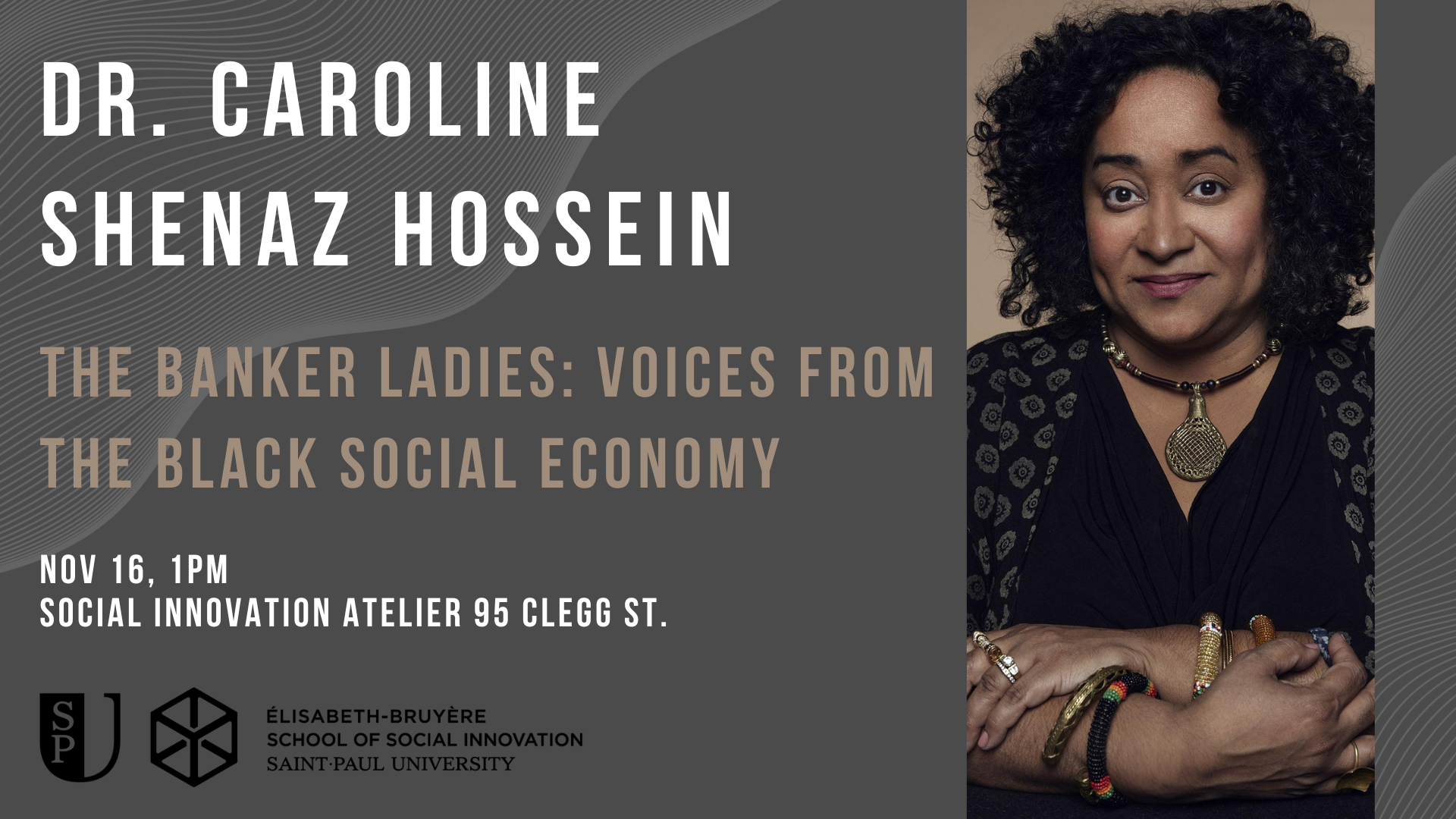 The School of Social Innovation and the Research Centre on Social Innovation and Transformation are thrilled to welcome Professor Caroline Shenaz Hossein to Saint Paul University on November 16th. Her talk, The Banker Ladies: Voices from the Black Political Economy, will highlight her recent work documenting savings groups and credit associations created by racialized women as a response to decades of financial racism at the hands of conventional financial institutions.
Many of the dominant discourses and practices of social innovation and social economy lack a strong critical analysis to attend to questions of power and structural change. One manifestation of this is the erasure of Black and racialized leaders within historical and contemporary social innovation spaces. Black and racialized Canadians have played a pivotal role in social and solidarity economies in Canada, yet these spaces continue to be seen and understood as primarily White spaces and activities (Hossein 2019). Professor Caroline Shenaz Hossein is one of the leading scholars challenging this erasure (Hossein 2019, 2022), and her theoretical and practical work has been instrumental in building a greater recognition of the contributions of Black and racialized social entrepreneurs and social innovators. Hossein calls on social innovation researchers and practitioners to challenge the "White gaze" in social economy literature, to explicitly centre the scholarships and lived experiences of Black and racialized perspectives.
Free but please register as space is limited.
Accessibility:
The Atelier has a barrier-free entry and an accessible, gender-neutral washroom.
Please refrain from wearing any scented products.
We encourage you to wear a mask, and will have masks available on site.
Caroline Shenaz Hossein
Dr. Caroline Shenaz Hossein is a Canada Research Chair for Africana Development & Feminist Political Economy (tier 2). She is Associate Professor of Global Development as well as cross-appointed to the graduate programme of Political Science at the University of Toronto where she teaches the core development course to PhD students. She is Founder of Diverse Solidarity Economies (DISE) Collective and she holds an Ontario Early Researcher Award (2018-2025) and was previously funded by SSHRC (2017-2020). Hossein serves as board member to the International Association of Feminist Economics, advisor to Oxford University Press, editorial board member to the U.N. Task Force for the Social and Solidarity Economy, Review for Black Political Economy and Kerala University's Journal 'Polity & Society'. Hossein is the author of 'Politicized Microfinance' (2016), co-author of 'Critical Introduction to Business and Society' (2017); editor of 'The Black Social Economy' (2018), co-editor of 'Community Economies in the Global South' (2022) and 'Beyond Racial Capitalism: Cooperatives in the African Diaspora' (2023). Her forthcoming books are 'The Banker Ladies' with University of Toronto Press and 'Co-operativism' with Cambridge University Press. Prior to becoming an academic, she worked for 9 years in global non-profits and 8 years in consulting to the World Bank, UNDP, USAID, IRC, CIDA, IADB, and the Aga Khan Foundation. You can follow her on Twitter @carolinehossein
For more information about The Banker Ladies: