Welcome to Radical Events Ottawa! Learn more about the list here. See the full calendar here.
Please Note: Events listed on this calendar are not organized by the Punch Up Collective unless otherwise noted in the event details.


L'heure du conte drag // Drag Story Time avec Jax le Pirate
November 18 @ 10:00 am

-

12:00 pm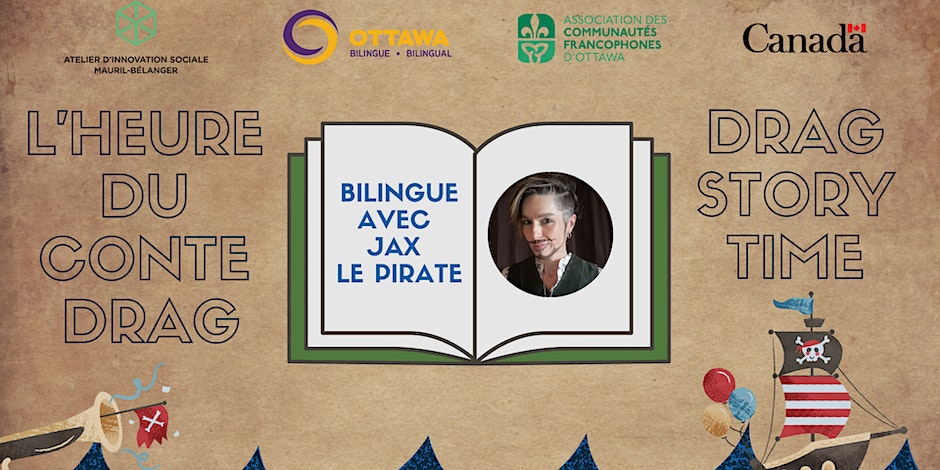 Come and hear children's tales and stories with Jax the Pirate! There will be story readings, music and lots of fun 🌈⚓ This activity is for children and their parents and will take place in French and English.
Topic of the activity: Pirates!
Accessibility Details:
– Para Transpo drops off at the main entrance
– Close to OC Transpo bus stops.
– Gender-neutral/wheelchair-accessible washroom
– A changing table in one of the washrooms
– Scent-free space
If you have specific access needs beyond what is listed above, please let us know and we will work together to meet them.
About the Atelier: The Atelier is a not-for-profit, member-based organization. We are an inclusive bilingual space (physical and virtual) for collaboration, training, knowledge-sharing, and support for social innovations. Our organization fights against social inequalities and different forms of oppression. Our members are stakeholders in the field of social innovation: students, researchers, practitioners, entrepreneurs and local communities.
//
Venez entendre des contes et des histoires pour enfants en compagnie de Jax le pirate! Il y aura des lectures de contes, de la musique et beaucoup de plaisir 🌈⚓ Cette activité est pour les enfants et leurs parents et se déroulera en français et en anglais.
Thématique de l'activité: Les pirates!
Détails à propos de l'accessibilité:
– Para Transpo dépose les passagers.ères à l'entrée principale
– Près des arrêts d'autobus d'OC Transpo
– Toilettes non genrées et accessible aux fauteuils roulants
– Table à langer dans une des toilettes
– Espace sans odeur
Si vous avez des besoins d'accès spécifiques autres que ceux énumérés ci-dessus, veuillez nous en faire part et nous essayerons de trouver une solution afin de les satisfaire.
À propos de l'Atelier: L'Atelier est un OBNL et espace bilingue inclusif (physique et virtuel) de collaboration, de formation, de partage de savoirs et de soutien aux innovations sociales. Notre organisme lutte contre les inégalités sociales et les différentes formes d'oppression. Organisme orienté vers les membres, ces derniers.ères sont des acteurs et actrices du milieu de l'innovation sociale: étudiant.e.s, chercheurs.euses, praticiens.nes, entrepreneur.e.s et communautés locales.