Welcome to Radical Events Ottawa! Learn more about the list here. See the full calendar here.
Please Note: Events listed on this calendar are not organized by the Punch Up Collective unless otherwise noted in the event details.


Dupil Collective Fall Concert Fundraiser
October 13 @ 6:30 pm

-

9:30 pm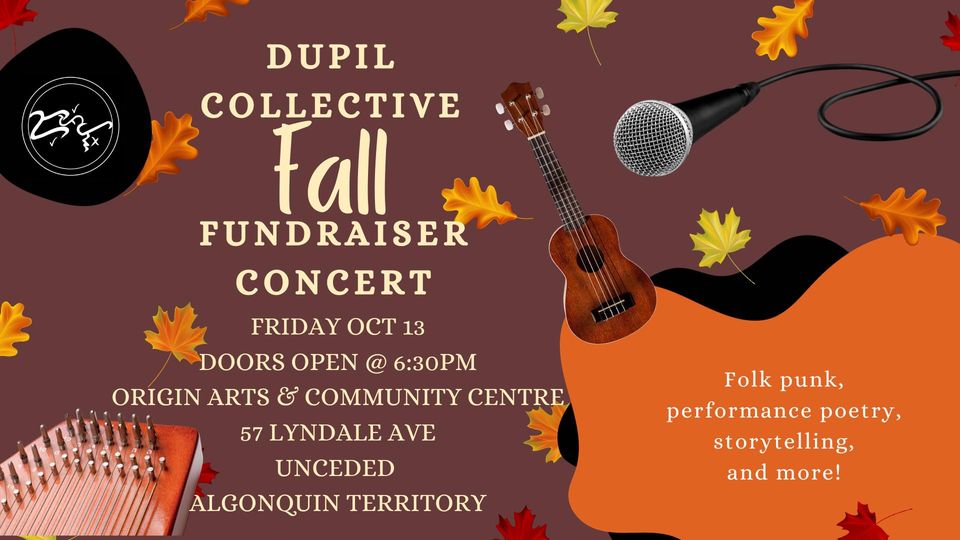 This is a concert fundraiser for the Dupil Collective. To purchase a ticket for this concert, please email us at dupilcollective@gmail.com. We will also be taking donations at the door. To learn more, or donate if you're unable to attend, visit our GoFundMe page here: https://www.gofundme.com/f/help-felix-lukayo-go-to-their-ancestral-home
Felix and Lukayo will play a variety of covers in a folk punk style (some instruments will include the ukelele, autoharp, and bamboo zither), while also sharing original poetry and stories. We will also have our merch table set up where you can pick up art collage buttons, poetry pins, felted ghosts, necklaces, pendants, charms, scratch off fortunes, art prints, and zines. On top of a Halloween Market, there will be a clothing swap!
Accessibility Notes:
Masking and hand sanitization is requested, as well as minimizing scented products as much as possible. There is a ramp available into the venue, as it is one step to get into it usually. The bathroom is on the same floor. The stage is slightly elevated. There is a variety of seating (chairs, couches, benches). Please notify us if you need priority seating or other accommodations.