Welcome to Radical Events Ottawa! Learn more about the list here. See the full calendar here.
Please Note: Events listed on this calendar are not organized by the Punch Up Collective unless otherwise noted in the event details.


Yes No Wave showcase: Gabber Modus Operandi, Rani Jambak, Linsey Wellman + screenings, dinner – Indonesian avant-garde electronic music and video
October 16 @ 5:00 pm

-

11:00 pm

$25 – $30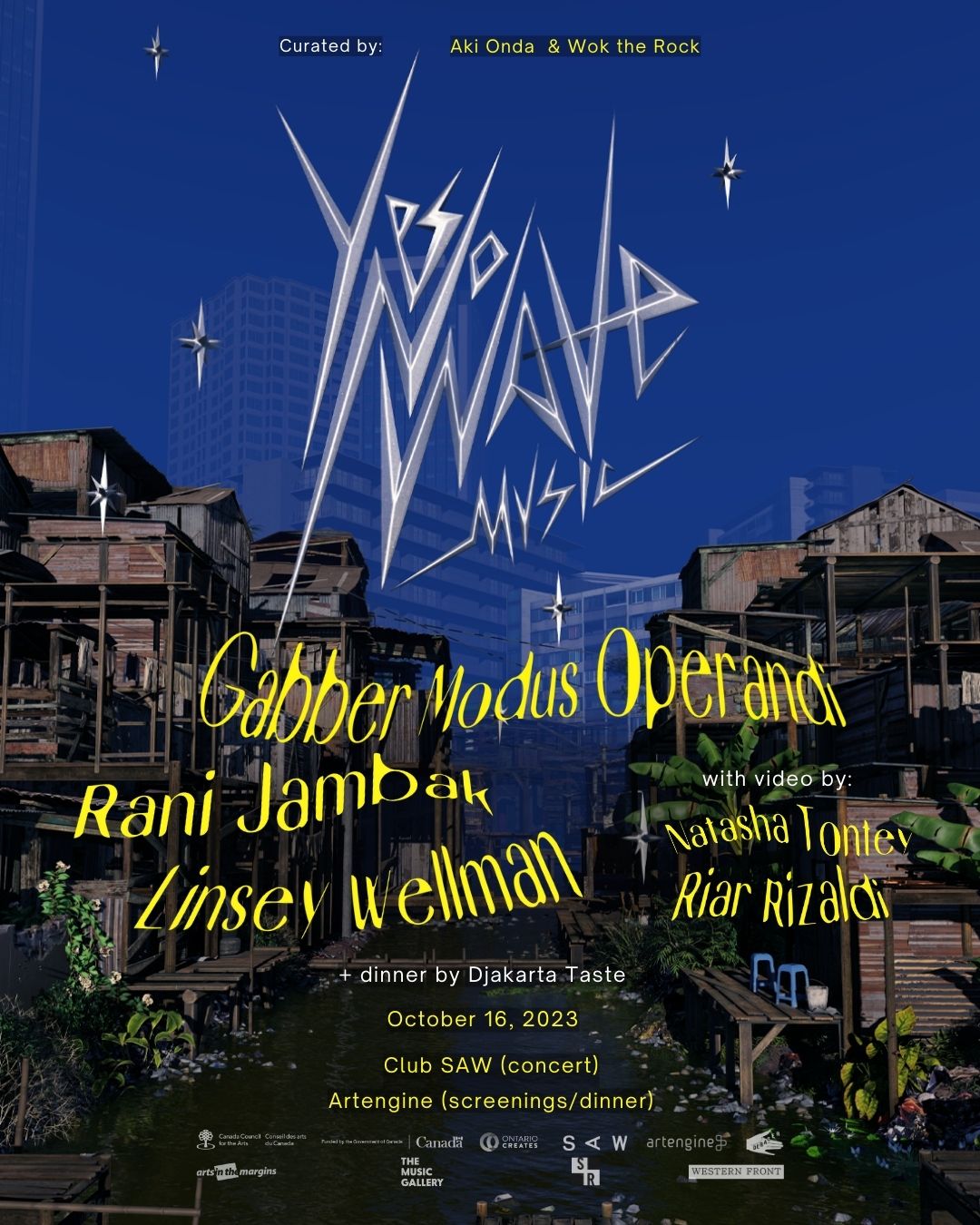 A Yes No Wave label showcase curated by Aki Onda and Wok the Rock, featuring performances by:
Gabber Modus Operandi
Rani Jambak
Linsey Wellman
presented with support from SAW
plus video works by:
Natasha Tontey
Riar Rizaldi
presented with support from Artengine
Curated by Aki Onda and Wok the Rock
+ Communal meal prepared by Djakarta Taste
Purchase a dinner ticket add-on for $15 + fees to join us for a meal of mie goreng (Indonesian fried noodles) with your choice of meat, shrimp or vegan. Pre-order is required. See Eventbrite ticket options above to purchase.
Schedule
5:00-6:30 pm – screening of works by Natasha Tontey and Riar Rizaldi (FREE) in Artengine
7:00-8:00 pm – Communal meal: mie goreng (Indonesian noodles)* from Djakarta Taste in Artengine
8:00-11:00 pm – performances by Gabber Modus Operandi, Rani Jambak and Linsey Wellman in Club SAW
*add-on dinner ticket required
About the program
A touring showcase of music and video works from Indonesia represented by the Yes No Wave label run by the interdisciplinary artist and producer Wok the Rock. The tour is presented by Send + Receive Festival, Winnipeg; Music Gallery, Toronto; Debaser, Ottawa; Art in the Margins, Montréal; and Western Front, Vancouver between Oct 12 – 19, 2023.
Based in the Javanese cultural hub Yogyakarta, Yes No Wave Music is an online label and platform to nurture Indonesian artists and promote their activities internationally. Founded by Wok the Rock in 2007, the label is run with a DIY ethos to build a post-capitalist alternative to music industry norms. All music on the label is free to download, distribute, and even remix, reflecting the Indonesian social value of sharing communal resources, and the necessity for artists to develop their activities in spite of nominal government support and funding. In 2010, Wok and Timothy O'Donoghue initiated the monthly concert series Yes No Club traveling throughout Southeast Asia and beyond. He subsequently co-curated Nusasonic in 2018-2022. These efforts fostered the international success of artists such as Senyawa, Gabber Modus Operandi, Raja Kirik, and Asep Nayak.
Since moving to Yogyakarta to study graphic design as a teenager, Wok's cultural activism has continued to grow over the past two decades. He co-founded art space Ruang MES 56, curated the Biennale Jogja XIII in 2015, and organized numerous community art projects. This informs his unique interdisciplinary practice of crossing boundaries of music and visual art.