Welcome to Radical Events Ottawa! Learn more about the list here. See the full calendar here.
Please Note: Events listed on this calendar are not organized by the Punch Up Collective unless otherwise noted in the event details.


Mobilizing Disability Justice – Accessibility in Event Planning
November 23 @ 5:30 pm

-

7:00 pm

Free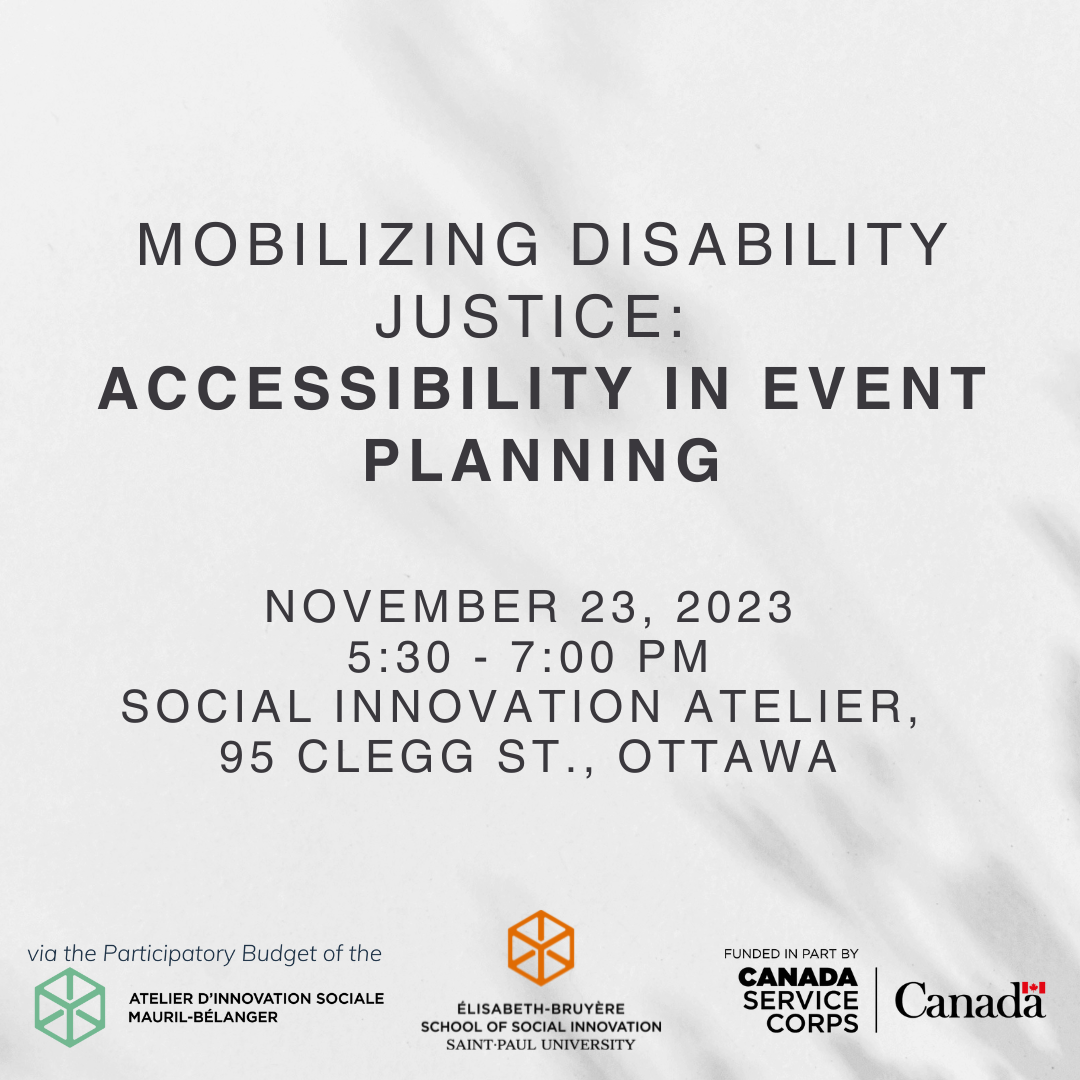 The School of Social Innovation and the Atelier are pleased to invite you to attend a panel discussion and workshop on creating accessible events, led by the disability justice principles of collective access, interdependence, and solidarity.
Join Camille Bérubé and Cameron Jette, local disability justice advocates in a conversation on accessibility. They will share their experience and knowledge, and give insights into the creation of accessible event spaces. Attendees will also have the opportunity to participate in a workshop to learn how to apply disability justice principles to their own events and meetings.
The organizers acknowledge the work of Sins Invalid in the creation of the disability justice framework and all the other grassroots groups and activists who have continued to nurture its development.
Accessibility considerations for this event include:
– Wheelchair accessible venue
– Gender neutral washrooms
– Quiet space
– ASL interpretation available
– In person, virtual, and asynchronous participation
– Close to OC Transpo bus stops and accessible by Para Transpo
– Masks required for in person
Use the registration form to let us know if you have other access needs and we will work collaboratively to try and meet them: https://docs.google.com/forms/d/e/1FAIpQLSfARRLcT_eeyj5_aWy0-poQe6EByFgFYiSZn_sgih4qx6WJ8w/viewform?usp=sf_link
About the speakers:
Cameron Jette
Cameron Jette (he/they) is a trans, neurodivergent and disabled drag performer, multidisciplinary artist, small business owner and community event planner. With his Bachelors of Arts in Human Rights and Social Justice from Carleton University, and nearly a decade of experience with various non-profits across so-called Ottawa, Cameron is passionate about community engagement, program development and facilitation, and community-focused event planning.
In October 2022, as his drag alter-ego Boy Vey, Cameron founded the Disability Drag Collective, a global collective of disabled drag performers looking to create meaningful change in our communities. He has also recently began planning diverse community-focused events as Wheelie Productions, where he focuses on creating spaces that prioritize accessibility, and disability justice.
When he is not working full-time as the Community Engagment Worker at Carlington Community Health Centre, or balancing his many side projects, he is also currently working towards completing his diploma in Event Planning from Centennial College, where he hopes to graduate this upcoming summer!
Camille Bérubé
Camille (she/her) Bérubé is a queer disability activist and a retired three-time Paralympian in the sport of swimming. She graduated from the University of Ottawa in Organizational Communication with a minor in Gender and Feminist Studies. She holds more than a decade of experience in athlete advocacy in the sport sector. Her other areas of expertise include, but are not limited to, organizational culture, disability representation as well as gender, disability and sexuality. Camille now works as an Advisor for Equity, Diversity, Inclusion and Accessibility at Canada's Museums of Science and Innovation where she uses her skill set as a catalyst for change in the museum sector. The 28-year old believes in the importance of being intentionally intersectional in any approach to social justice and equity. Accessibility and anti-ableism cannot be talked about separately from other systems of oppression and must be implemented in a transversal way at all times in order to reach true belonging and inclusion of disabled folks in every part of our social fabric.