Welcome to Radical Events Ottawa! Learn more about the list here. See the full calendar here.
Please Note: Events listed on this calendar are not organized by the Punch Up Collective unless otherwise noted in the event details.


National March on Ottawa to Free Palestine!
November 25 @ 1:00 pm

-

5:00 pm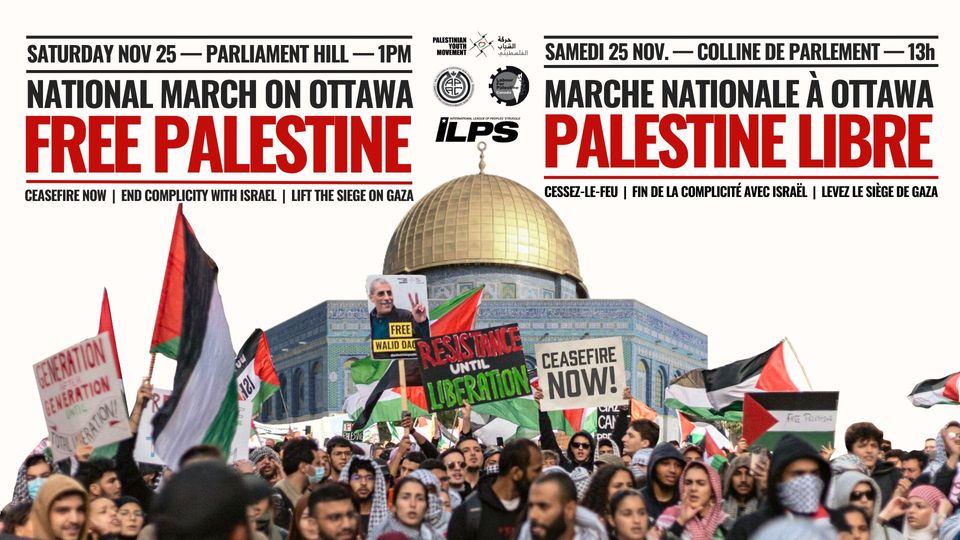 NATIONAL MARCH ON OTTAWA TO FREE PALESTINE!
On November 25th at 1pm, the Palestinian Youth Movement, the Association of Palestinian Arab Canadians, Labour for Palestine, and the International League of Peoples' Struggle in Canada will march on Parliament Hill, Ottawa to demand an end to Canadian complicity in the ongoing genocide of the Palestinian people and the colonization of Palestine. Over 1 month into the genocide, with over 11,000 Palestinians killed by Israel, the Canadian government not only refuses to call for a ceasefire, but continues to sell weapons that enable Israel's massacres.
We are marching for an end to this genocide by demanding:
 An immediate ceasefire

 An end to Canada's complicity in Israel's war crimes, genocide, and colonization of Palestinian lands

 Lifting the siege on Gaza
Join us on November 25th for what is sure to be a historic march, at a critical time for our movement for liberation. We call on Palestinians, Arabs, and people of conscience from all across Canada to make plans to travel to Ottawa on this day. When we show out in numbers and raise our voices together, a people's chorus becomes impossible for the Canadian government to ignore.
*****
 RSVP: https://forms.gle/jjxYq5P22NuqrV4o9
 Organizational endorsements: https://forms.gle/HqcryqW47JCawqNE7
 Fundraiser: https://goodbricks.org/…/palestin…/ottawa-national-march
 More information on transportation soon!
*****
MANIF NATIONALE À OTTAWA POUR LIBÉRER LA PALESTINE !
Le 25 novembre à 13h, le Palestinian Youth Movement, l'Association des Canadiens arabes palestiniens, Labour for Palestine et la Ligue internationale de lutte des peuples au Canada marcheront sur la Colline du Parlement, à Ottawa, pour exiger la fin de la complicité canadienne dans le génocide du peuple palestinien et la colonisation de la Palestine. Plus d'un mois après le début du génocide, avec plus de 11 000 Palestiniens tués par Israël, le gouvernement canadien non seulement refuse d'appeler à un cessez-le-feu, mais continue de vendre des armes qui permettent les massacres d'Israël.
Nous marchons pour mettre fin à ce génocide en exigeant :
 Un cessez-le-feu immédiat

 Une fin de la complicité du Canada dans les crimes de guerre, le génocide et la colonisation des terres palestiniennes par Israël

 Une fin au siège de Gaza
Rejoignez-nous le 25 novembre pour une marche historique, à un moment critique dans notre mouvement de libération. Nous appelons les Palestiniens, les Arabes et les personnes de conscience de tout le Canada à prévoir de se rendre à Ottawa ce jour-là. Lorsque nous nous montrons nombreux et que nous élevons nos voix ensemble, il devient impossible pour le gouvernement canadien d'ignorer le chœur du peuple.