Welcome to Radical Events Ottawa! Learn more about the list here. See the full calendar here.
Please Note: Events listed on this calendar are not organized by the Punch Up Collective unless otherwise noted in the event details.


Ottawa ACORN Day of Action Against Developers!
March 29 @ 12:00 pm

-

2:00 pm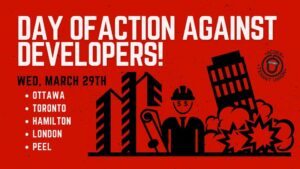 Minto Park, Elgin/Gilmour St.
Hosted by ACORN
The PC Party received $250,000 in donations from major developers in Ontario and consistently passes legislation that puts developer profits over tenants' right to housing – JOIN ACORN TO FIGHT BACK!
The same developers that are funding the Doug Ford government are actively lobbying for and benefiting from Ford's policies that destroy affordable housing (more details below). Join your local ACORN office on March 29th in taking action against local developers:
Ottawa – 12PM meeting at Minto Park (Elgin/Gilmour St) before marching to the Taggart office. Taggart has donated $30,000+ to the PC Party and was responsible for the demovictions at 142 Nepean St.
Brampton – 2PM meeting outside City Hall at 2 Wellington St W, and then marching to the Pulis Office. Pulis recently bought an apartment building with the goal of mass evicting tenants & demolishing their homes.
London – 1PM meeting outside 1154 Adelaide St. N. Members will be doing outreach on the impact of Ford's Rent Control Loopholes and Bill 23 while highlighting local predatory developers.
Toronto – 2:45PM meeting at Cafe Landwer (165 University Ave). Members will be going to a developer's office whose new development site has no proposed affordable housing.
Hamilton – 12PM at Gore Park. Members will be doing outreach on the devastating impacts of Bill 23.
MORE INFO ON FORD'S PRO-DEVELOPER PROFITS & ANTI-TENANT POLICIES:
Since becoming Premier in 2018 and being re-elected in 2022, Doug Ford has:
Removed rent control on all buildings built after Nov 15th, 2018
Removed development charges that developers pay to municipalities to fund essential municipal services like roads, sewers and public transit
Weakened an affordable housing policy called 'inclusionary zoning' to only 5% affordable housing in new developments near public transit for only 20 years
Changed the definition of affordable housing to 80% of average market rent which is not affordable!
Threatens to take away the power for cities to require developers to replace the affordable housing they demolish for condos & luxury rentals
AND MORE!