Welcome to Radical Events Ottawa! Learn more about the list here. See the full calendar here.
Please Note: Events listed on this calendar are not organized by the Punch Up Collective unless otherwise noted in the event details.


Show up for Trans Kids!
OCDSB head office, 133 Greenbank Road
Call for support from Community Solidarity Ottawa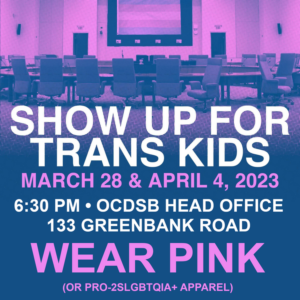 In recent weeks, we have seen a number of anti-trans activists attend and school board meetings across Ontario in order to spread fear and hatred towards trans youth, including at the OCDSB.
Multiple anti-2SLGBTQIA+ figures have announced their plans to speak and disrupt at the upcoming OCDSB meetings on March 28 and April 4, where they will surely take the opportunity to grandstand and spread transphobic speech.
We've seen what happens when anti-trans hate is allowed to flourish. As such, we also plan to be there to show support for 2SLGBTQIA+ students and show that we won't tolerate anti-trans hate in our community.
We are encouraging members of the community to come to these meetings in person to show support for trans and gender diverse students.
We are encouraging those who attend to show up early, to take up as much space in the meeting room as possible, and to wear either pink, or apparel that shows your support for 2SLGBTQIA+ students. If you don't have any pink in your wardrobe, we will be providing pink scarves and bandannas that you can wear.
Additionally, if you would like to speak out against anti-trans hate and in support of policies that affirm and support trans and gender diverse students, you can request to speak at these meetings by filling out this form.
More info: https://www.communitysolidarityottawa.ca/events/show-up-for-trans-kids