Welcome to Radical Events Ottawa! Learn more about the list here. See the full calendar here.
Please Note: Events listed on this calendar are not organized by the Punch Up Collective unless otherwise noted in the event details.


Ottawa March for Trans Rights 2023
August 25 @ 5:30 pm

-

7:30 pm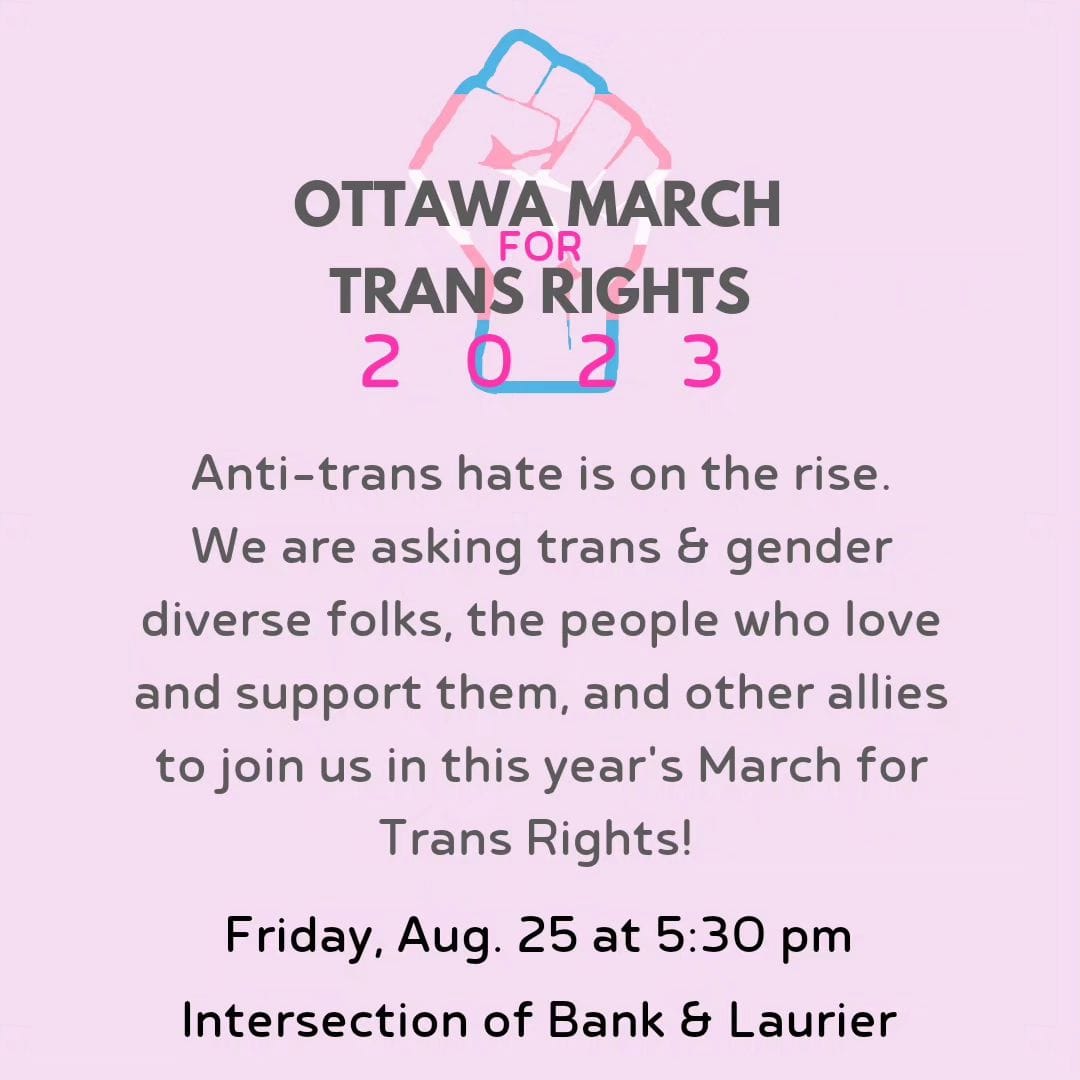 Anti-trans hate is on the rise. We are asking trans and gender diverse folks, the people who love and support them, and other allies to join us in this year's March for Trans Rights!
Friday August 25 at 5:30pm
Intersection of Bank/Laurier
Organized by a group of local trans and gender diverse people, our goal is to show the Ottawa Trans community that they're not alone!
Bring your energy, your signs, and your families!
Event Accessibility
We are asking folks to please mask. Masks will be made available at the march if you cannot bring one. Although the event is outside, we will be gathered in large numbers and masking will greatly reduce the risk for our immuno-compromised community members.
The area in front of the stage will be kept clear of crowds for those who are seated.
We will also have chairs on site for those that need them.
If we missed something or you have a specific accessibility question, please send us an e-mail at transfestott@gmail.com
We have secured sign language interpretation in ASL. We are looking for an interpreter in LSQ. If you know someone who is an interpreter, please email: transfestott@gmail.com
Folks with mobility aids are encouraged to join for the march and will be prioritized! Individuals using mobility aids or with other access needs will be asked to lead the march, setting the pace for everyone! No one will be left behind.
SHOW YOUR SUPPORT
your donations help us cover costs, like paying speakers, buying poster materials, and providing snacks/masks! If you want to donate, please send us an e-transfer: transfestott@gmail.com
VOLUNTEER WITH US
We're looking for volunteers committed to ending anti-trans hate in Ottawa! See the form in our bio to apply!
Looking for:
First Aid Volunteers
Peer Support
Accessibility Support
Movers and Lifters
Floaters (general support)
See the form in our bio to apply!
@transmarchottawa
SAFETY AND EXPECTATIONS
We want this to be a fun, positive, and family-friendly gathering, so bring your energy, your signs, and your kids, family and friends!!
Bring your passion, rage, joy, and sadness. All are welcome. But please be mindful of others, their experiences, and the space you take up.
With the rising anti-trans hate, we can oftentimes feel isolated and alone. This March is a chance to combat those feelings and lean into community.
Montreal had their Trans March earlier in August and it was attended by upwards of 5000 people. We expect this March to be just as spectacular!
If there are folks who are protesting the Trans March, we ask that you do not engage with them, and allow our marshalls and volunteers to create a barrier between us and them. We protect our own.