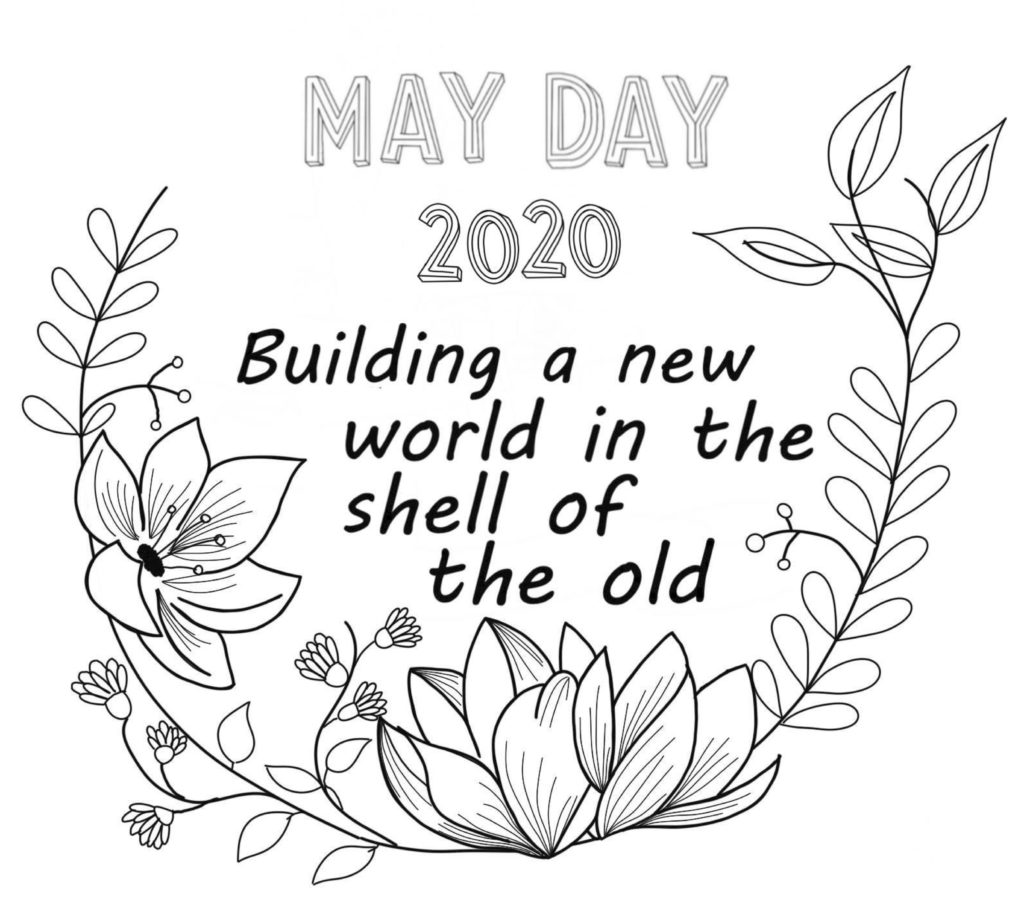 Our Invitation
Health crises are political. For May Day 2020, let's come together against the forces of capitalism and colonialism, which are currently intensified as part of the COVID-19 pandemic. May Day is normally a time to gather and celebrate, and so this year we want to safely transform our public spaces into expressions of that collectivity! We're happy to share these images commissioned by Punch Up and beautifully drawn by Bia Salles (@bia_makes_art).
We invite you to show your solidarity by using and sharing these images of butterflies (ENG/FR), bees (ENG/FR), and birds (ENG/FR) that evoke the power of life against colonialism and capitalism! You can download the whole set of images in English or French. Color, draw, or trace them with kids! Create your own images that evoke the spirit of May Day! We encourage you to post them around your neighborhood, in your window, at your workplace, on social media, on patches. We're excited to see what you do! Share digitally using #MayDay2020.
For more gorgeous shareable images, check out these graphics from Justseeds Artists Cooperative and this comic from Ad Astra Comix.
Building a New World In the Shell of the Old
The crisis that the pandemic escalated was already here. This May Day offers a chance for us to collectively meet this crisis by building a new world, recognizing that the one we've been living within creates misery and devastation. It consistently kills poor people, Indigenous peoples, racialized people, migrants, elders, kids, and disabled people first; it regularly places disproportionate care work on the shoulders of women and forces working-class folks to put their bodies on the line. COVID-19 is accelerating harms that were already pervasive.
We will be living through this crisis for a long time, and so our organizing has to happen over the long-term with care and intention. People want to help one another; we are good at organizing and self-organizing. The state is neither interested in nor good at those things, nor are the very rich. This is a good time to remember that and to build on our collective strengths.
This May Day, we encourage you to think about how your life is connected with workers, with Indigenous sovereignty and migrant justice, with people resisting imprisonment. When we evoke work, we mean not only wage work, but all the activities that sustain us and our communities. When we evoke open borders, we think not only of people imprisoned in immigration detention centres or killed at sea, but all the peoples who have had borders imposed on them by settler states. When we evoke freedom from prisons, we call for releasing prisoners and also resisting the slide toward a police state in the name of public health.
These images evoke intertwined struggles and sites of liberation. Even in the midst of a global pandemic, there are victories. Wildcat strikes remind us that, as the old song goes, "without our brain and muscle not a single wheel can turn" and that we need not wait on union bureaucracies to exercise worker power. Rent strikes show that the property-owning class is vulnerable to organized resistance, even when people are physically separated, and assert that everyone deserves a dignified place to live. Mutual aid and caremongering networks affirm that people want to care for each other and will self-organize to do so.
Winning recognition of the dignity of work is only the beginning. Rent strikes and halting evictions are only the beginning. Establishing community networks of care and support are only the beginning.
We know that there is no going back to the world that was; that world was never good for the vast majority of us. We can build a new world in the shell of this one.