May Day is a day to celebrate the collective power of workers – paid and unpaid, formal and informal, care work and field work – all of the activities that sustain us and our community.
This May Day, join Punch Up Collective for a kid and family oriented May Day Parade!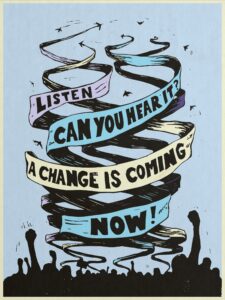 Sunday, April 30th, 9:30-11:30AM
City Hall Front Lawn (Laurier St)
We'll have stations to make banners and noisemakers (or bring your own!), and we'll tell stories about kids harnessing their collective power. Then we'll rabble-rouse, chant and march our way around the City Hall grounds.
Kiddos of all ages are welcome! (And grown-ups of course too)
We'll have masks available, as well as snacks.
If you have any accessibility needs, please let us know how we can support your active participation in this event! You can email us at punchup@riseup.net.
Find this event on Facebook here.
(Image: "Change Now" by Pete Railand, part of the Justseeds graphics collection)