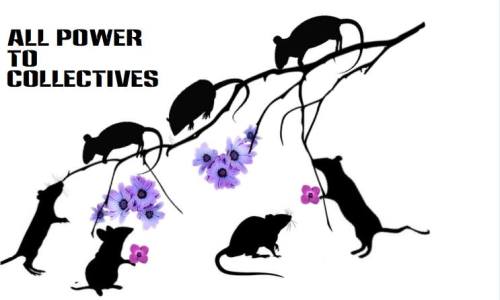 Facilitated by the Punch Up Collective, this workshop is for anyone interested in starting a collective, or those keen to discuss how to make a collective they're already a part of more effective and sustainable.

This workshop will be capped at a maximum of 30 participants. This post contains a range of details about the event, but should you have additional questions please do not hesitate to get in touch.
In Sol,
Punch Up Collective
CONTENTS
1. Event Description and Details
2. Registration
3. Cost
4. Reading
5. Accessibility
6. About Punch Up Collective
7. Contact Information
1. Event Description and Details
Saturday, February 3rd, 2018
1-5pm (doors open at 12:30pm)
Room 101, Jack Purcell Community Centre
320 Jack Purcell Lane
Ottawa, on unceded Algonquin territory
Number of participants: 30
We live in a frightening and unpredictable period, faced with the growing challenges of climate catastrophe, ongoing economic austerity and state violence, and emboldened white supremacy. Countering these challenges will take widespread, powerful, and resilient social movements that can sustain themselves over the long haul. But how do we get from here to there, when so many of our organizations and projects seem temporary, ad hoc, and dysfunctional?
We think building vibrant, sustainable collectives in our communities might be a good place to start. This workshop hopes to help start that conversation in Ottawa. Some topics the workshop will cover include:
what exactly is a collective?

why meaningful anti-oppression analysis and practice is essential for collectives

tools and features of effective collectives

how are collectives structured?

plus plenty of time for discussion and reflection on the experiences of participants

The workshop will last 4 hours (with breaks, of course) and be facilitated by the members of the Punch Up Collective. It will be capped at 30 participants.
There will be drinks and snacks available with vegan, kosher and gluten-free options. There will be no nut products, but we cannot guarantee a nut-free environment. Please contact us if you have specific dietary needs. Also, please see accessibility info below.
2. Registration
To register, please fill out this form. Because this workshop has limited attendance, we would like people to register by Wednesday, January 24th. If you've registered but won't be able to attend, please also tell us that by emailing us.
3. Cost
There is no cost to participate in this event, however donations to cover costs associated with the workshop are appreciated.
4. Reading
It's not necessary but, if you're a keener who wants to do some advance reading, we recommend Syed Hussan's short but vital article "You can't change the world alone, but all of us can together" which you can find here.
5. Accessibility
Childminding is available. If you require childminding, please email us by Saturday, January 27th.

The room where the workshop is taking place is on the first floor and is wheelchair accessible.

The first floor has gender-segregated wheelchair accessible washrooms. On the 2nd floor, there is a washroom that is wheelchair accessible and unisex (gender neutral).

Bus tickets will be available for transportation.

We request all participants refrain from wearing scents to better allow people with chemical sensitivities to attend.

Portions of this event will be recorded. Participants can ask not to be recorded.

If you have any other accessibility needs not listed here, please get in touch with us.

6. About Punch Up Collective
Punch Up is a small anarchist collective based in Ottawa, Ontario, on unceded Algonquin land. A more detailed description of the collective is available on our website.
7. Contact Information
The Punch Up Collective can be reached at punchup@riseup.net.